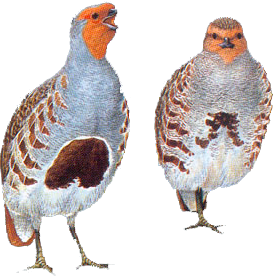 Good game hawks result from regular slips and not from disappointments.
Release your own game on your own hawking ground.
&pound4.00 Grey Partridges;
&pound4.00 Redleg Partridges;
&pound3.50 Pheasants;
&pound3.50 Black Pheasants;
&pound2.50 Ex. Layers (late June);
Release pens made to size to order;
Feeders and drinkers available;
Game pellets.

All with instructions, best system management and set-up procedures.
All from the Bob Moir Game Farm - Only the best!.
Supplier of the biggest shoots in the South (located near the M25).